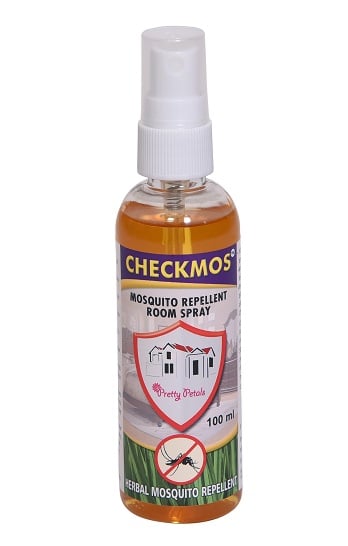 Checkmos Mosquito Repellent Room Spray
100% Natural Herbal Essential Oils based Mosquito repellent.
Non toxic and safe to use for the whole family.
Safe for Everyday Use.
Protects from mosquito bites which may cause diseases such as Malaria Chikungunya, Dengue etc.
Safe to Use, even near children.
Trusted and innovative Herbal formulation. No harmful chemical repellents or pesticides.
Pleasant Natural Aroma. No Artificial Fragrances.
Gas Free – No Aerosol pack.
Directions for Use:
1. Spray Minimum 4 Shots for every 100 sqaure feet of room area twice day.
2. Keep door windows Closed for about 30 minutes after spraying.
3. Avoid Excessive inhalantion.
4. One or two shots under funrniture such as like sofas, beds, almirah etc. is advisable.