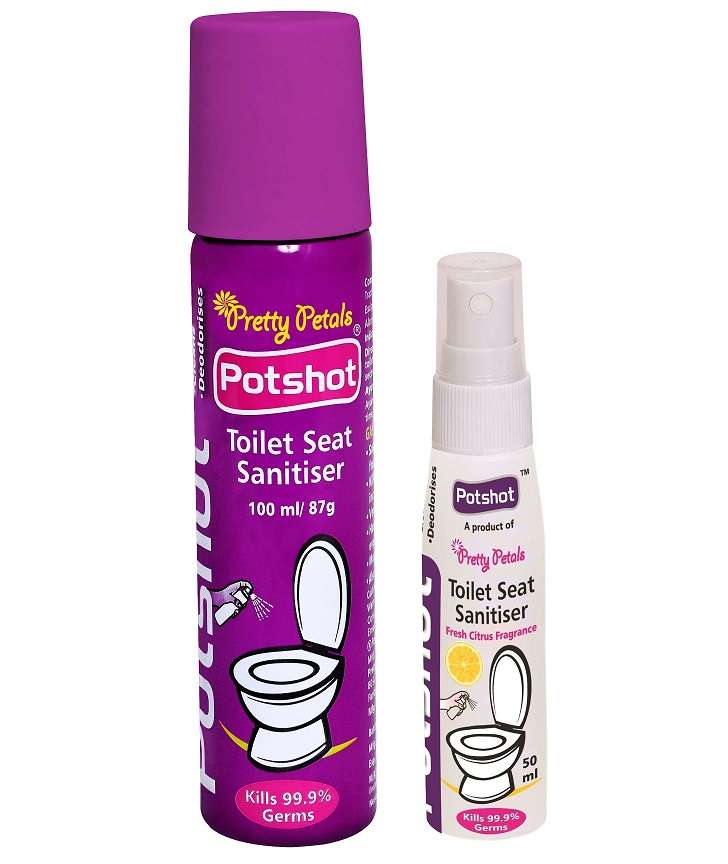 Product EAN : 8904254800183 & 8904254800084
MRP : 146 & 73
Potshot Toilet Seat Sanitiser
Potshot is your powerful weapon against unhygienic and dirty toilet seats.
Unique research based formulation to sanitise, deodorise and disinfect a toilet seat within a few seconds.
Scientifically tested for effectiveness against various hard to kill pathogenic bacteria and fungi as per European Guidelines and also against H1N1 (Swine flu virus), Rotavirus as well as HSV2 ( Herpes Virus).
Safe for daily use.
Ordinary Toilet Seat sanitisers contain plain Isopropyl Alcohol (IPA) and/or harsh disinfecting chemicals like Triclosan or Quaternary Ammonium compounds such as benzalkonium chloride, Cetrimide, Chlorhexidine Gluconate etc. as well as a lot of aerosol propellant gas. Those products hardly work and do not provide the kind of protection they claim! They are mere toilet fragrances!!
Potshot provides a safe alternative. It contains No Quaternary Ammonium Compounds and No Triclosan.
Kills 99.9% of disease-causing germs including bacteria, viruses and fungi. Cleans, Sanitises and Deodorises. But our innovative formulation actually works and we have conducted scientific tests to ensure that in internationally renowned laboratories.